We hear it all the time- when you first get engaged and pick a date your wedding feels like it's SO far away. Then all of a sudden you wake up and there are only a few months left, you're losing sleep over all of the little details and wondering if the stress free wedding you're dreaming of is still possible.
That's why we're outlining the top 10 reasons we think all brides should add a day of wedding coordinator to their team!
1. So there is a contact person that isn't you
Let's face it, if you're the one who planned your wedding, you're most likely going to be the one who everyone goes to when they need direction on the big day. Your bridal party, your photographer, your DJ- they will all be super happy to have a day of coordinator to get in touch with so you can enjoy your day.
2. So you don't have to worry (or know) about day-of mishaps
As much as we try to avoid it, sometimes things just happen- and it's the day of coordinator's job to make sure you aren't the one who's dealing with it. We've had hairstylists show up without tools, limo drivers stuck in traffic, and pouring rain start to fall five minutes before an outdoor ceremony. The last thing you want is to worry about any of this on your big day. When you hire a day of coordinator, it's their job to handle it all, most of the time before you realize it even happened.
3. So there is someone to plan for all the little details
Who's going to run down to the lobby and show the photographer up to the hotel room? Who's going to make sure the sandwiches you ordered get delivered and put out for the bridal party? Can you trust that the guys are all getting dressed and have their boutonnieres on right? Don't forget about getting the bouquets over to the reception before it starts. What about the marriage license and rings- they've got to be in safe hands. Your day of coordinator will take care of all these little details for you so you can your stress free wedding.
4. So everything goes according to the timeline
First you need a timeline that breaks everything down- hair and makeup start time, when the photographer arrives, where the limos will be picking you up and so forth. Once your day of coordinator creates your timeline, she's also going to make sure everyone sticks to it!
5. So your mom and bridesmaids can enjoy the day too
You might be thinking- "I was going to have my mom and maid of honor handling this stuff". It's awesome if they're willing, but we think it's always nicer when they get to sit, relax, and enjoy the day with you. This way they can get themselves ready for photos and trust that your day of coordinator will always make sure your veil is perfect and your dress is fluffed!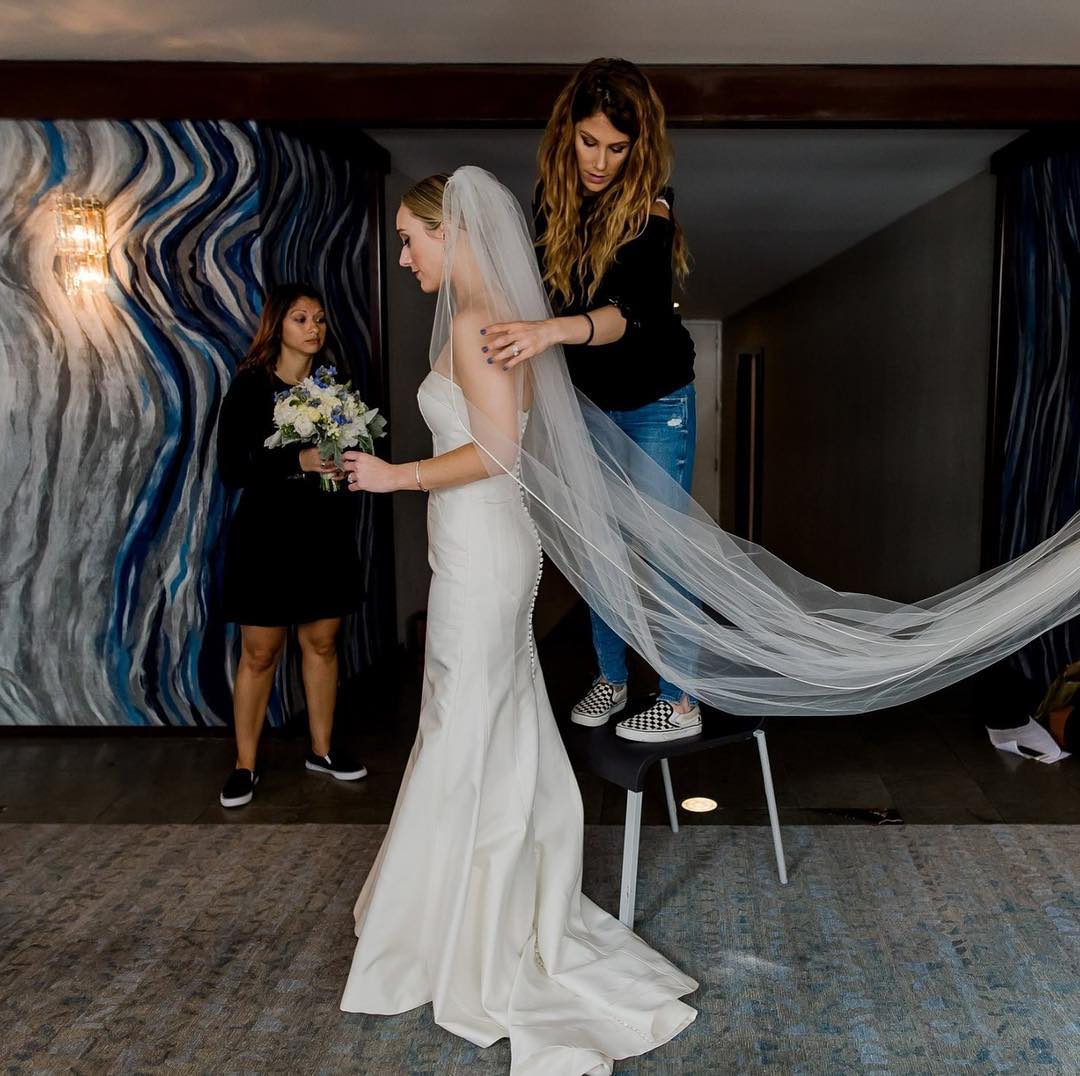 "your day of coordinator will always make sure your veil is perfect and your dress is fluffed"
6. So you have someone to run your rehearsal
Not all venues will have someone there to run a rehearsal. When you have a day of coordinator on your team, she will be your right hand gal making sure that everyone in your party knows exactly what to do on the big day.
7. So you don't have to remember the vendor tips
You've meticulously chosen all of the vendors you want to help bring your dream wedding to life and it's common to hand out gratuities for their amazing work. If you don't want to worry about making sure everyone gets their tip, you can always delegate that duty to your day of coordinator and check it right off your list.
8. So your space stays nice and neat
Of course your bridesmaids are going to be snapping pictures while you're all getting ready together- but there's nothing worse seeing it on Instagram hours later and noticing the dirty glasses and empty plates in the background behind you. Your day of coordinator will be there to make sure your space stays nice and neat.
9. So you know who to go to when you need something
Let's say you wanted to make sure the photographer gets a photo of your family from out of town, your dad decides he wants to give a last minute speech, and you left your spare shoes up in the bridal suite. Instead of needing to track down 3 different people to get this all taken care of, you can go-to just one. Your day of coordinator will handle everything!
10. So you can relax and enjoy- because you definitely deserve it!
It's your day! You and your fiance put the hard work in to plan this special day together and the most important thing is that the two of you enjoy every last second of it.
Looking for a day of coordinator for your own stress free wedding? EVJ Wedding Co. has got you covered. Check out our services for weddings in LA, NY, and NJ.